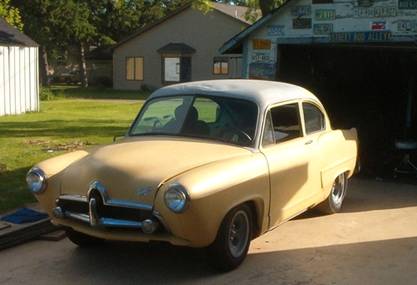 1951 Henry J
no trunk model,NO RUST, titled project car w 350/350 
Car could easily go either way at this point, nostalgia gasser or street car. Most metal work done and in primer sealer and near paint ready(final sanding). Still needs roof dent work. The car is 80% plumbed w all components mounted. It is not wired, The car has been soft assembled to check fit and show how complete it is. The ONLY reason for swapping is that my health has taken a down turn again w a planned surgery  in Aug and the associated recovery I will not get this car finished anytime soon.
  $$16K invested. Make a trade offer. Collectible vintage DRIVERS only. If I like the car we will not get into values. But cash price is $9000 w motor + trans $7800 w/o , A trade would be higher and a trade plus cash to me would be preffered over all cash or a straight trade. Not to say I will not do a straight up swap, I  will on the right car.
Consider the cash price firm-NO delivery is avail.
NO long bed or 4x4 trucks, Model A cpes/PU's,Model T cpe's or buckets (too hard for me to climb in),late models(after 1976). I am not into post 51 or OHV Ford drivetrains
A PILE of New parts in, on and w the car.  ITEMS W * ARE AVAIL. AT ADDITIONAL COST. Partial list-
NEW window fuzzy kit
NEW "Tanks" repop Henry J gas tank
NEW 3/8"  ALUM. Fuel line front back to Holley Elec. Fuel pump to TANKS tank
Holley Elec. Race Fuel pump
NEW Jegs Fuel Pressure Reg. *
NEW Large Fram Chrome/Orange can fuel filter *
NEW Rubber insulated line clamps for Bat + fuel lines-not installed
NEW nylon line clamps for brake lines-not installed
Rear mount battery box w welding cable Hot lead to Stater area.
NEW Classic Inst. Fuel tank sender
NEW In Box Mr Gasket Mega Shifter*   
NEW Grant 13" tri spoke foam grip nostalgia steering wheel *
Speedway racing steering wheel 15" 
NEW Grant Horn kit 
NEW 30" POLISHED STAINLESS steering tilt column
New Borgeson steering shaft Ujoint w dampner   MII to ¾ DD stainless
New Borgeson Ujoint   1" DD to ¾ DD stainless
NEW ¾ DD shaft                     
NEW in box Edelbrock carb
NEW Edelbrock Performer intake
NEW chrome valve covers
NEW radiator flexsteel hoses
NEW Thermostat housing
NEW Currie driveshaft
NEW floors+ I/O rockers,
NEW foil faced heat barrier -2 rolls
Misc NEW fender hardware
NEW FatMan stub w MII,
NEW Fatman 2" drop spindles
NEW Tubular A-arms,
NEW Chrome tilt column,
Escalade Power buckets and Orig. back seats,
NEW Repro  '67 Mustang 289 HP 3 core radiator
PolyUre. Engine /trans mount kit (* w engine/trans only)
NEW trans cooler and lines
NEW Flexsteel radiator hoses (* w engine/trans only)
NIB Kwik Wire 20 circut kit *
NEW Body/fender/lens rubber
NEW door/hood bumpers
NEW window seal /fuzzie kits,
NEW TINTED windshield,
NEW IN BOX Currie rear drums backing plates + brake kits
Has all orig. side and rear glass
Has both Orig. Bumpers (Driver quality rear,Front could use some help) But no front brackets.
NOS emblems, tail and lic. lights,
NEW 11" GM disc brakes,
NEW CP Corvette Power MC and Proportioning valve
NEW # 4 Residual valve (front)
NEW Hedman headers
NEW dual exaust
8" ford 2:73 open RE.
New Rear springs
NEW Power Ant. *
NEW Tri bar Glass Halogen hdights *
VDO * and stock gauges
NEW Moon Tach *
NEW Newport Eng. 2 speed Henry J wiper kit
NEW Mr Gasket spoon pedal
Mr Gasket braided carb linkage kit
NEW OS Rear View mirror (door edge) *
NEW in box Biege headliner
Has all door (I+O) + window handles, top bows etc
Trades ACCEPTED: I will NOT add my cash.
LOW BALLERS SAVE YOUR FINGERS I AM NOT BROKE OR HARD UP.  I AM NOT GOING TO GIVE THE CAR AWAY for any less than I am asking nor trade it for just any kind of junk. My ONLY motivation here is getting into a driver w bit of cash left over.(house could use new shingles)
 NO PAYPAL now or ever. Deposit required if you want the car held for you for more than a few days. The car will stay listed until paid off. 
SOLD!